TRAVEL
Top 10 Reasons to Travel To Marrakech : Marrakech trip
One of Morocco's historic imperial cities, Marrakech is often said to be one of the country's most captivating destinations.
Nicknamed the Red City for the high reddish-brown walls that enclose the ancient medina, Marrakech offers an exciting combination of history, culture, tradition, daily life, and unique energy that needs to be experienced to be understood.
Add a trip to Marrakech to your wish list and see why so many people cannot help but feel enchanted by the Red City.
We have listed the reasons why you should travel to take the Marrakech trip.
#1 Interesting Medina
The medina is in the heart of ancient Marrakech.
The high sand-colored walls protected the inhabitants from invasions in the past. Pass through one of the highest gates and you will find yourself in a world of chaos: people, bikes, stunt scooters, cars, donkeys, carts, and street stalls compete for space.
Narrow alleys lead to even smaller walkways, with ornate doors and interesting callers that add visual charm to otherwise unadorned buildings.
Traders continue their daily chores in open workshops, groups of teenage boys gather while younger children play, and women gossip aloud as they walk the streets.
The medina is the place to go if you want to immerse yourself completely in local Marrakesh life.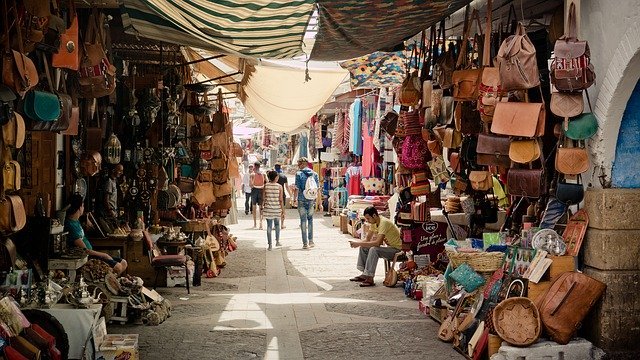 #2 Souks
The souks of Marrakech are famous all over the world and attract many visitors who are willing to practice their bargaining skills, acquire some bargains, and explore the many colorful delights.
Large bathtubs of aromatic spices, vibrant crystal chandeliers, tall shisha pipes, leather balgha (similar traditional slip-on shoes), and wooden musical instruments sit alongside chilabas (long, traditional garments), kaftans, sewing fountains, stuffed camels, silver bracelets, kitchen equipment, carpets and a variety of housing supplies, handicrafts, and souvenirs.
#3 Lively main square (Djemaa el-Fnaa)
Djemaa el-Fnaa is a major highlight for both tourists and locals looking for entertainment and fun.
During the day, ladies offer henna tattoos, men demonstrate snake charming and try to get people to pose for photos with mischievous monkeys, and a variety of stalls sell an even greater variety of products.
Need some refreshment? Try freshly squeezed orange juice.
As night falls, the square becomes even livelier, with musicians, magicians, people in traditional costumes, dancers, and storytellers adding to the carnival atmosphere.
#4 Historical sites
As a former capital, Marrakech is not lacking in impressive sites with a long history.
The magnificent Saadian tombs exhibit splendid artistic and architectural details of bygone times, while the El Badi Palace is in a state of ruin, yet evocative.
Take a look inside the Ben Youssef Madrasa for religious history, admire the minaret of the Koutoubia mosque, and be dazzled by the details inside the Bahia Palace.
#5 Delicious food
Marrakech has numerous restaurants and cafes where you can sit and enjoy the delicious taste of Morocco.
In addition to the well-known Moroccan dishes, such as tajine and couscous, look for places that serve Tanjia.
Tanjia is a specialty of Marrakshi that takes its name from the type of clay pot in which it is cooked.
#6 Hammams / Traditional baths
A hammam is a traditional Moroccan steam bath.
It is a place where the locals go to bathe, socialize, and clean.
Although there are many luxury hammams open to the public, mostly for tourists, it is still possible for visitors to experience a real public hammam in Marrakech.
Please note that there are separate areas or different opening hours for men and women.
#7 Traditional Accommodations / Riads
In addition to the luxury hotels and resorts, Marrakech has a large number of traditional riads and dars for guests to stay in.
Found in the historic medina, visitors can sleep in the same buildings that many generations of Moroccans have done before, with the more traditional rooms. Having been converted from private houses.
#8 Gardens
If the hustle and bustle of Marrakech gets too much, several quiet parks and gardens offer the perfect respite.
Stroll through the olive trees in the Ménara Gardens and look into the waters of the large pond, see a lush variety of plants and flowers from around the world in the acclaimed Jardin Majorelle, and look at the fountains.
The Agdal Gardens, a UNESCO World Heritage Site, have a royal heritage and are one of the oldest parks in Marrakech. However, the gardens are only open to the public on Fridays and Saturdays.
#9 Sufi sanctuaries
Marrakech has seven shrines in honor of prominent religious figures from the Sufi branch of Islam.
Followers of Sufism visit these large shrines to pray and seek blessings, with visitors coming from international destinations and places within Morocco.
Scattered throughout the city, the shrines are not accessible to non-Muslim visitors.
There are seven large stone towers outside the medina walls near the Bab Doukkala gate and the central bus station, representing the seven Sufi tombs.
#10 Flashy Art
Marrakech has a lot of street art to find, with detailed graffiti contrasting the elegance of the commissioned pieces.
A large painting of a Berber man on a wall in front of the train station is well worth a visit.
How to travel to Marrakech
The most common options to Travel To Marrakech are by land and air.
The most common is to go by plane with one of the many companies that fly from Europe, although there are adventurous people who decide to go by car from Spain and make a route by car through Morocco.
Getting to Marrakech by plane
There are many airlines that fly to Marrakech from Europe, including Vueling, Easyjet, and Ryanair.
The most important airline in Morocco is Royal Air Maroc, although the fares it offers are not usually as attractive as those of the low-cost companies mentioned above.
Low-cost companies that arrive in Marrakech:
Vueling – From Barcelona.
Easyjet – From Madrid.
Ryanair – From Gerona, Madrid, Valencia, and Seville.
Getting to Marrakech from other cities in Morocco
If you are visiting other cities in Morocco and do not have a car (either your own or rented), you will find buses that connect all over Morocco at different times of the day.