Not everyone has the perfect body type. Maybe you're a bit thin, maybe you're a bit heavy and you want to look more muscular. The best route to that is what you already know; eat right, lift weights and that is going to pack on the mass.
However, how can you improve your image right now?
Well, did you know that the right clothing choices can make you look bigger and stronger.
Here are some of the top style tips you can incorporate for that nice muscular look.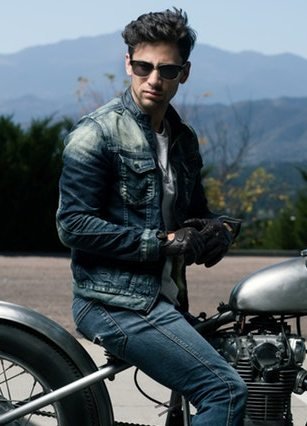 Layer your clothing.
This technique is highly effective because it can bulk up and adds depth to the middle and upper torso area. So, start your layering by wearing a well-fitted undershirt.
Now, add your second layer perhaps a long sleeve t-shirt like a Henley, a button-down, or a dress shirt.
For the third layer weather permitting, you can add a sleek lightweight sweater or a thicker one that can add bulk. A thick sweater with a cable knit pattern is a perfect choice to add size to your frame. But, if you wanted to go with something more lightweight, you can actually work this in with the sports jackets that we just talked about.
Make sure that you've nailed the fit with every item. One odd fitting item that's too large can throw the whole thing off.
An important note for the large man, yes, you can use layering to look more muscular, but what's key for you is to use lighter weight thin fabrics.
Build up the shoulders and chest.
Now, there are quite a few ways to do this with your clothing.
The first is to wear a casual button-down that has pockets on the chest or epaulettes on the shoulders. The extra fabric here, it's going to add visible bulk to your frame.
These types of shirts though are casual, so what are your other options?
Suit jackets, blazer jackets, sports jackets.
All of these have padding that's going to bulk up your upper body. A well-tailored jacket will add mass to your shoulders and chest while slimming up your torso creating a great looking masculine silhouette.
Even casual jackets like a leather or denim jacket will help your upper body look stronger by boosting your chest and shoulders.
Nail the fit
Fit is king when it comes to clothing.
If you're thin, you don't want to wear skin-tight clothing. It's only going to make you look thinner.
On the flip side, you don't want to wear clothing that's too baggy.
You're going to end up looking like a kid
wearing his older brother's clothing.
You want your clothing to drape cleanly on the body.
Take your clothing to a tailor to get it adjusted
even if it's casual clothing like button-down shirts or jeans.
Wear long sleeves
To look more muscular, you want to gravitate towards long sleeve shirts. Wearing short sleeve shirts can actually over emphasize how thin or flabby your arms actually are especially when the color of the shirt contrasts sharply against the color of your skin.
And because long sleeve shirts cut down on the color contrast, this helps to create the illusion of more muscular arms.
But, what if it's hot outside?
In that case, just roll up the shirt sleeves. Now, don't roll up past the elbow, go with two rolls.
That's going to take you to about the mid of the forearm and overall this look is going to make your arms look more muscular. It's a much stronger look than that same man trying to pull off a short sleeve shirt.
Here's one mistake that many Men make while trying to dress to look muscular.
That one mistake is wearing loud over sized accessories.
You want to receive compliments, you want to standout from the crowd, but loud over sized accessories work against you.
Go with something simple, timeless, elegant.
Maybe something unique though, something that's going to melt together different materials that is a conversation starter.
Use heavier weight fabrics and weaves
Materials like tweed, flannel, corduroy, and heavy denim are going to be thicker and have a textured look.
This textured look increases their perceived size and weight, while not increasing the size of the silhouette.
The end product is a sleek, but heavier look one that just feels deeper and more masculine.
The use of lines.
Now, heavy men need to be careful of this, but understand that you can use horizontal stripes and lines to boost your perceived size.
This works really well for thin men. Ideally, you want this near the chest and the shoulders to help build up their overall appearance. Certain sweater styles with horizontal stripes on the upper torso can really help with this look.
Check patterns are also great for adding a bit of bulk to an outfit especially in a casual shirt or a casual jacket.

Wear a collared shirt.
Collars are an easy way to increase the perceived size of your neck or to hide your double chin.
There's a range of different menswear items out there that have collars.
We're talking polo shirts, dress shirts, collared sweaters, turtle necks, and the list goes on.