FOOD & DRINK
Strongest Beers In The World – How Much Can You Handle
Have you heard one of your friends say beer doesn't get him high enough? Well, we are going to tell you some of the strongest beers that are available in the world that will put your manliness to test.
Let me tell you a fact, The strongest beer has an ABV of 67.5 %.
Sam Adams Utopia –  ABV 29%
It costs $200 and is illegal in 12 states.
Once the beer is brewed, special yeast strains are added including one that's usually used in the making of champagne and a "ninja yeast," which can survive in a highly alcoholic environment.
My original idea for Utopias was to push the boundaries of craft beer by brewing an extreme beer that was unlike anything any brewer had conceived," Jim Koch, founder of Boston Beer Co., the parent firm of Samuel Adams, told Fortune.com. "I'm proud to present to drinkers this lunatic fringe of extreme beer worthy of the Utopias name."
Tactical Nuclear Penguin – ABV 32%
The drink, named "Tactical Nuclear Penguin" is so strong that it should be served in small measures usually reserved for spirits.
Its maker, BrewDog brewers of Fraserburgh described the 32 percent proof tipple as its "most audacious and ambitious project to date".
Struise Black Ddamnation VI – Messy –  ABV: 39%
The Black Damnation series is a dark twist of Urbain's mind, conceived as beers that neither Belgium or the world have ever seen before, nor are they likely to ever see them again. Originally intended as a range of twelve beers, it has since expanded.
Baladin Esprit DE Noel – ABV: 40%
Beer which was left to rest in oak barrels until a perfect harmony between its spirit and the aromas of the barrels it was kept in was created. A little "treat" for passionate drinkers who love taste and elegance. The color is straw yellow, the taste is smooth with gentle notes of wood and chocolate.
BrewDog SINK THE BISMARCK – ABV: 41%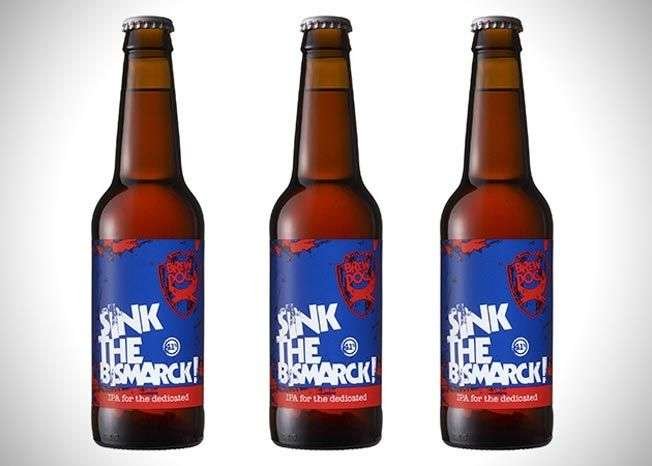 A beer so powerful just one gulp would push you over the drink-drive limit has gone on sale. The beer is supposed to be drunk in small quantities because it is so strong and has been designed with a screw top so it can be resealed.
Nigel Barker, the landlord at the Wellington, told the Birmingham Mail: 'It has to be drunk in moderation because of its strength but we have sold several bottles.'
SCHORSCHBRAU SCHORSCHBOCK 43 – ABV: 43%
Germans surely have a good taste for beers.
KOELSCHIP OBLIX – ABV: 45%
Koelschip doesn't mess around when it comes to strong beers. Like many of the other beers on the list, this thing was a limited brew and is extremely difficult to get your hands on.
THE END OF HISTORY – ABV: 55%
It is an ultra-limited — as in, it might already be sold out — 55% alcohol blond Belgian ale, brewed using crazy freezing techniques and featuring hints of juniper berries, mead, and nettles.
Of course, being the world's strongest and most expensive beer wasn't enough for these restless brewmasters, so they took things one step further, and packaged the beer inside taxidermied roadkill, creating the end game of premium beer. Seriously, just look at it.
SCHORSCHBRAU SCHORSCHBOCK 57 – ABV: 57%
Schorschbräu surely wants to have the title of strongest beer.
START THE FUTURE : ABV: 60%
It weighed in at a hefty 55% ABV (for reference, that's higher than the ABV of vodka) and $764.
BREWMEISTER ARMAGEDDON : ABV: 65%
If you are looking to get wasted in the most efficient manner possible, then Brewmeister's Armageddon beer is right up your alley.
Crowned the world's strongest beer, this brew is 65% alcohol by volume. this will get you drunk approximately 6 to 7 times faster than a normal beer.
BREWMEISTER SNAKE VENOM : ABV: 67.5%
The Scottish brewers from Brewmeister were already the record holders of the strongest beer in the world with the Armageddon, they decided to come back with a beer even stronger: le Snake Venom.
Brewed with yeasts used for producing beer and champagne, one can also find in the recipe a certain quantity of peaty malt.
As a result, this beer offers a unique experience to the taster. It pours an intense and deep black color and displays no head. The nose is very fruity, much focused on the yeast. However, it is in the mouth that this extreme beer reveals its complexity and incredible flavors of lemon, apple, and cherry. In conclusion, the Snake Venom is less heavy that its incredible ABV would suggest at first sight (67.5%)