Have a corrupted video that needs to be repaired? Having a video corrupted is one of the worst nightmares for someone. Videos bring back so many memories and having a broken video file means a loss of those memories. Videos bring your memories back to life. You may have a memory of your baby, your marriage, or your first travel adventure that you had. These memories are most precious to us and we don't want to lose them at any cost.
There are a number of video repair software in the market but the one that I going to review today is one of the best and one of the most intuitive of them all.
Best Video Repair Software
Stellar Video Repair is one of the best and advanced video repair software that helps you fix any errors on your videos. It can repair a wide array of video files that are broken or damaged. One of the best features of this video repair software is that it can repair multiple corrupted video files at once. It can fix audio issues in your video file as well. Stellar video repair supports almost all video file formats like MP4, AVI, ASF, WMV, MKV, FLV, DIVX, WEBM, MJPEG, MPEG, AVCHD, MTS, MOV, M4V, 3G2, 3GP, F4V, HEVC, and other video file formats. It has support for Windows 10 and Mac Os as well. The software support macOS Big Sur, macOS Catalina, Mojave, and older versions.
How To Use Stellar Repair For Video?
Step1: User Interface To Add A File
Stellar video repair has one of the simplest user interfaces of any video repair software. Once you install the software and you open it, you are greeted with a very simple UI. There is only one option and the one that you only need. You can add a video file that you want to repair by clicking on add file.
Step 2: Repair Multiple Video Files at Once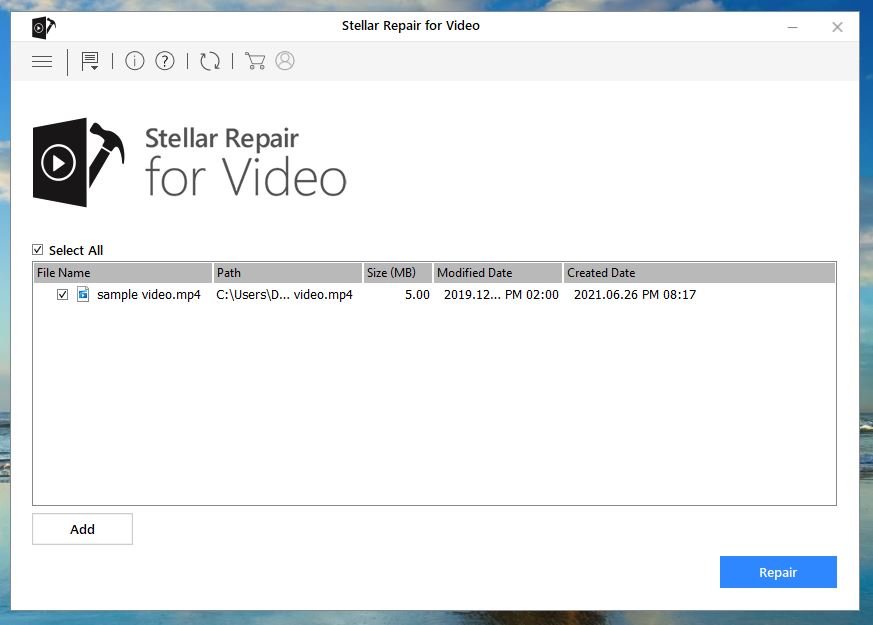 Once you have added the video file that you want to review you are taken into a different interface. You can add multiple videos for repair from this interface. I am using only one video in this case. Click on the Repair button and you will be taken to a new interface where the software will repair your video.
Step 3: Preview Or Save Repaired Video
Once the video file is repaired you will have an option to preview or save that repaired video. The preview option will help you confirm that your video has been repaired. It is very little to no chance that your video may not be repaired. You can save the repaired video on your hard disk or any other disk storage media that you have.
What Type of Damaged Video Files Can This Software Fix?
This algorithmically complex video repair software by stellar can fix videos that are jittery, flickery, blurry, distorted, or video that is corrupted and won't open. The software will fix your video by rebuilding the frame, moment, header, duration, and even damage caused to the audio or sound. It can reconstruct the audio track in your video. You can repair UHD, HD, VR, and 360° videos. You can repair any corrupted video file from a phone, DSLR, smartphone, security cameras, hard disk, pen drive, memory cards, or any other video recording gadget that you may own.
What Causes a Corrupt Video File?
There are numerous reasons why your video file can get corrupted. One of the main reasons being the loss of data during data transfer. Maybe a sudden interruption occurs while transferring your video from your pen drive to your pc and then you delete that video from your pen drive. Now you are left with only a copy of that video file and it is corrupted. Corrupt video files can occur due to storage drive problems or sudden OS crashes.
Is Stellar Video Repair Safe?
Stellar video repair is 100% safe to use. The software is installed on your PC so you don't have to worry about your videos as all the data is stored locally on your computer's hard disk. We have also scanned this software using numerous antivirus software and it's free of any malware or trojan.
Is Stellar Video Repair free?
With all the amazing features that this software has, you will not mind paying for it as it is a lifesaver. Despite being a paid software Steller video repair is worth it as they use one of the most complex algorithms for video repair. You will be well of spending your hard-earned cash on software that has more chances of getting your videos fixed. If you invest in bad video repair software and it doesn't fix your file then you will have to shell out more money for new software. So it's better to spend at once on something that is proven effective.
Best Tool For Recovery Of Damaged and Corrupt Data of Your Video Files
Stellar has made one of the best tools to recover damages and corrupt video files. The software has support for both Windows and Mac. I was amazed at the number of video file formats that it supports. This tool will help in the recovery of any grade of damaged video files of any formats.
Stellar Video Repair Tool Pricing
Stellar video recovery has a demo version and a full version. The demo version has some limited features. You can't save your video files using the demo version but you can see a preview of the repaired file. The full version lets you save your video files on your Windows or Mac PC without any limitations.
Stellar video recovery is available in three different paid versions. Standard, premium, and technician. Each version serves a different purpose and each provides you with a different set of features.
Standard Plan: This plan will cost you 49.99$ for one year. With this license, you can use this tool on one Mac Or Windows Pc.
Premium Plan: The premium plan sets you back at 69.99$ and provides you with additional features like recovery of lost and damaged photo files. Recovery of media files without any extensions is also possible. This plan also allows you to see an estimated time for scanning your drive for corrupt files. The multiple preview option in this tool allows you to preview, add a new file header, and edit that file header.
Technician Plan: This plan Will cost you 99.99$ and will allow you to have up to 3 installations on 3 different windows or mac os systems. Other than this the features of this plan are similar to the Premium Plan.
Free Demo Features Of Stellar Video Tool
The free version of the Stellar video tool will let you see the preview of repaired files for up to 20% of the actual video size. Stellar is providing you a free demo of the tool so that you can see whether your video file can be repaired or not before even paying for it. The demo version is available for both Windows and Mac.